The Fish
Fishing for Any Season
Skeena Wilderness is an angling destination headquartered in Terrace, British Columbia. Depending on the time of the year you decide to visit, there are many different kinds of fish to be caught in the area's numerous rivers.
Chinook Salmon (King Salmon)
Fishing Chinook in Canada's Northwest is an electric, once-in-a-lifetime experience that you can't miss, and Terrace has the largest Chinook (king) salmon in the world. The raw power of these fish is extraordinary, but our head guide, Stan Doll, has beached Chinook of more than 80 lbs. Stan has also guided many other fishermen to fish this large, so come catch your next trophy.
SockeyeSalmon (Red Salmon)
There are millions of sockeye during a year of good returns to the Skeena. Only recently opened to sports fishers and formerly considered to be non-biters, these small-but-speedy salmon can be fooled into taking a fly or a lure. A fast sinking line is best for sockeye since these beautiful, blue-backed creatures prefer a fly fished close to the bottom. Pinks, which range from four to eight pounds normally, are best taken on a trout rod or light spinning gear. They are bright, firm, and make for great table fare.
Coho Salmon (Silver Salmon)
For years, Northern Coho—the largest of the species—were frustratingly difficult to catch with a fly. This was particularly irritating since they are wonderful fish to play on a fly rod. In the last decade, we have honed our fishing techniques to the point where these finely proportioned salmon are a mainstay in our charters. Clients have hooked as many as 30 in a day! Through this is not the norm, we guarantee enough Coho in one day to please any angler.
Of course, casting spoons for Coho is a time-tested technique, and if you wish to angle them that way, we'll put you on the right run. Recently, we have also begun seeking saltwater fly fishing opportunities in estuaries and bays. Coho are wonderful game fish in freshwater and dazzling in the sea, with some weighing up to 20 lbs. Ask about joining us on one of these adventures!
Spring Steelhead
Formerly known only to anglers living in the lower Skeena Valley, spring steelhead fishing here is now gaining an international reputation. For anyone who has cast a fly through the clear, crisp air in March, April, or May, it's not hard to appreciate why this is so.
In March, when the land is still hard and the snow shelves are stacked along the river bank, a fast sinking line is the order of the day. During April, when the buds are out and rivers are beginning to rise in height and temperature, a slow sinking line is preferred. Finally, in May, the air is full of fragrance and the land is green, but the last of the spring steelheads can be persuaded to come up for a surface fly.
All spring steelhead fishing in the Skeena Valley is done when the water is low and clear, and the steelheads shine like newly minted coins. They will be readily found with a fly and they fight surprisingly well. Spring is also a good time to find sea-run cutthroat trout, Dolly Varden trout, and bull trout, all of which can be fooled with a minnow pattern fished at the end of a floating line and a long leader.
Summer & Fall Steelhead
The Skeena Valley is resplendent in the summer and the fishing is as brilliant as the green landscape. This is the time when the summer steelhead of Skeena surge up the river and its tributaries. The fish bound for the upper branches of the river—the Kispiox, Babine, and Sustut—are the largest of the species.
The possibility of catching one of these great fish is distinct; the chance of catching a world record is remote, but possible. When these Skeena giants reach their home rivers they have burned a lot of energy. The fish can be intercepted from a few to fifty miles above tide when they are fresh and strong. Fastening onto a fish of these proportions in the lower Skeena is the angling thrill of a lifetime.
Fishing the main stem for Skeena giants is fishing that demands long rods and long casts. Fewer steelhead are hooked on the fly rod in the Skeena than are hooked in her tributaries, but those hooked are well worth the effort. Spin fishing there can be especially spectacular.
Summer steelhead is arguably the best freshwater game fish in the world. With its aggressive nature and penchant for floating flies, the summer steelhead of the Copper River (Zymoetz) is the kind of steelhead that has given the species its well-deserved reputation. A floating line, a seven or eight weight rod, and reels with robust drag that carry plenty of backing are your best choices.
Seasonal Calendar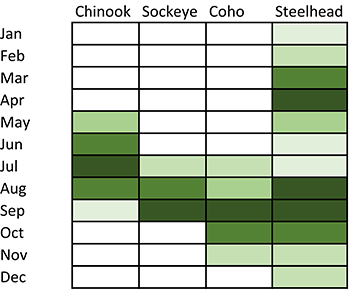 Not only do we have Salmon and Steelhead but we also have Searun Cutthroat Trout, Dolly-Varden, and Sea Run Bull Trout.
Any Questions?