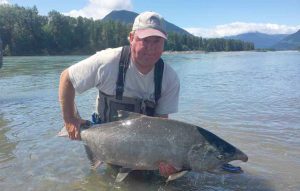 About Us
For the true angler who needs access to fresh sea-run fish every month of the year, there may be no location equal to Terrace, British Columbia. Here, the fly fishing season never ends; it only changes. If you want to truly make the most of these plentiful waters, you need to try a charter with Stan Doll.
Stan Doll — Founder
Born in Terrace, Stan started fishing as soon as he was able. He was one of those kids with an innate talent for fishing. Reading the water and finding fish became second nature to him. Fishing the rivers that were accessible by bike, Stan managed to catch hundreds of salmon from the Skeena, Kitsumkalum, and Copper rivers.
By the time Stan was 16 with his driver's license, the use of a power boat was most important to him; it was his gateway to all of the rivers on the lower Skeena. By the time he was a young man, Stan had beached a staggering number of Chinook salmon, the largest weighing a jaw-dropping 86 lbs. He also caught steelhead that would impress the most dedicated angler, including a 32-lb. trophy male.
Stan still has a profound love of fishing and the outdoors, as his two sons will tell you. At 60, he enjoys a well-deserved reputation as the premier Chinook guide in Terrace. With 36 years of fishing journals and 40 years of angling experience behind him, Stan is arguably the area's most productive steelhead and Coho fishing guide and most skilled boatman
Why Choose Us ?
The Skeena river and her tributaries is the ultimate fly fishing playground. Skeena wilderness fishing charters has been in the guiding business for over 40 years. We are the local professionals. My two sons work with me in our business and have been raised and trained by me on all of these local rivers. They are excellent double handed spey and single handed fly casters. They read the water very well as fishermen and as skillful safe boatmen. We run top quality Alumaweld and Wooldridge jet boats. Alumaweld drift boats and Avon rafts. We use Sage, Loomis and Thomas & Thomas rods, Ross reels and professionally tied flies. Everything is first class. We offer day trips, ALL INCLUSIVE trips and remote helicopter trips. Something for everyone.
We are licensed to guide on ALL the classified and unclassified rivers in the Terrace, Kitimat and Prince Rupert area. No other guiding operation is licensed to guide ALL the rivers that we are. Our license includes the CLASS 1 ZYMOETZ (Copper) CLASS 1 GITNADIOX. Our CLASS 2 rivers include ZYMOETZ 2 (Copper) KALUM , KWINAMASS, SKEENA 2, Skeena 4, plus all the unclassified waters. We are also licensed for the restricted ISHKEENICKH and KINCOLITH in the NASS area. All these rivers are the home of all the world record steelhead and salmon. If one river is blown out we are licensed to guide you where the best fishing is. We all have experienced the disappointment of arriving for your week of fishing and finding that the water is too high or too low or that you should have been there last week.
The last thing that you need is to travel all the way to CANADA to find that the same thing can happen. The SKEENA watershed has a number of different angling areas with different weather patterns and the tributaries that flow through these areas have different characteristics and different water level requirements for successful fishing. There is always somewhere to go.
The right guide will have licenses to fish all these rivers allowing you the best chance of a memorable rather than miserable trip. It need not happen to you if you book with the right guide. We are that guide that is licensed for ALL the rivers.
SKEENA wilderness's fishing lodge is situated right near the SKEENA river, minutes from the ZYMOETZ (Copper) and KALUM rivers. We are right in the heart of the best fishing. Best to first e-mail or give us a telephone call to determine the best time to book your customized fishing adventure. Everyone has different priorities. We want to book your priorities first. If you do not book with us we both LOOSE.
Our Fishing Charters
Our standard charter packages are as good as they get. For the ultimate spring steelhead adventure, Stan can arrange custom helicopter trips into some of the most remote and tightly controlled systems in the province. See isolated areas like the Nass River Valley and the Ishkeenickh and Kincolith areas on the Copper River.