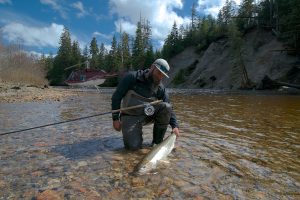 Helicopter Fishing in Terrace, British Columbia
An experience like no other. Fish for the largest Salmon & Steelhead in the world, and travel along rivers in a private guided helicopter tour. See the sights from above, and hunt like eagles do from above.
Skeena River is the Hot Spot for Salmon Fishing
You could be catching 6-10 Steelhead Salmon in a day.
Our guides are extremely passionate and experienced about fishing on the Skeena River and fishing in general.
Usual packages include a 7 day fishing charter in Terrace BC directly along the Skeena River.
Pick one or two or every day to upgrade your fishing package to a helicopter fishing tour.
The helicopter comfortably fits 2-3 people (and optionally a 4th) plus the guide and pilot (total of 5-6 people).
Out of your 7 day fishing charter you can pick a nice weather day and select that as your helicopter fishing tour day or multiple helicopter fishing days.
What To Expect Helicopter Fishing On The Skeena River
On the helicopter fishing day the experienced pilot will have already flown around to check out the spots to see which areas look best for that day.
The day begins in the morning light as you fly into the rivers. From above we can point out the hot spots and fly from river to river depending on the tide.
The plan is to fly up and down the river and stop at various locations throughout the day. The helicopter stays with us the whole day. We fish from morning to night all day long.
There's dedicated areas of the river where only select companies have licenses to fish on the river. So, we can bring you to areas where not many fishermen or potentially no one else will be fishing.
You will be in awe of the amount of wildlife you will see in this underdeveloped area of the wilderness. It's like combining a wilderness tour and helicopter fishing. There are separate tours for both but with the helicopter tour you can access areas that are only available to helicopter access as they are so remote.
The scenery is amazing and you'll see eagles and bears to name a few of the wildlife you'll be seeing on this adventure.
Whether this is a once in a lifetime thing or you'd like a helicopter tour multiple times in a week so you can visit the remote destinations, it's completely up to you.